When I had discovered the 'The UnReal Times' about three years back, I had become an instant fan. I remember chuckling, and at times
guffawing
while going through their hilarious content- primarily focused on
humor
through satire,
spoof
, and parody.
I was hence delighted when they announced 'Unreal Elections', their debut novel back in the summer of 2014 when election fever was its peak. The book was a runaway hit and won accolades for its witty and zany humor. Back then, I had spoken to the authors of the book, C.S Krishna and Karthik Laxman (also the founders of the website), along with their star writer, Ashwin Kumar, for a story I did on my love for The UnReal Times.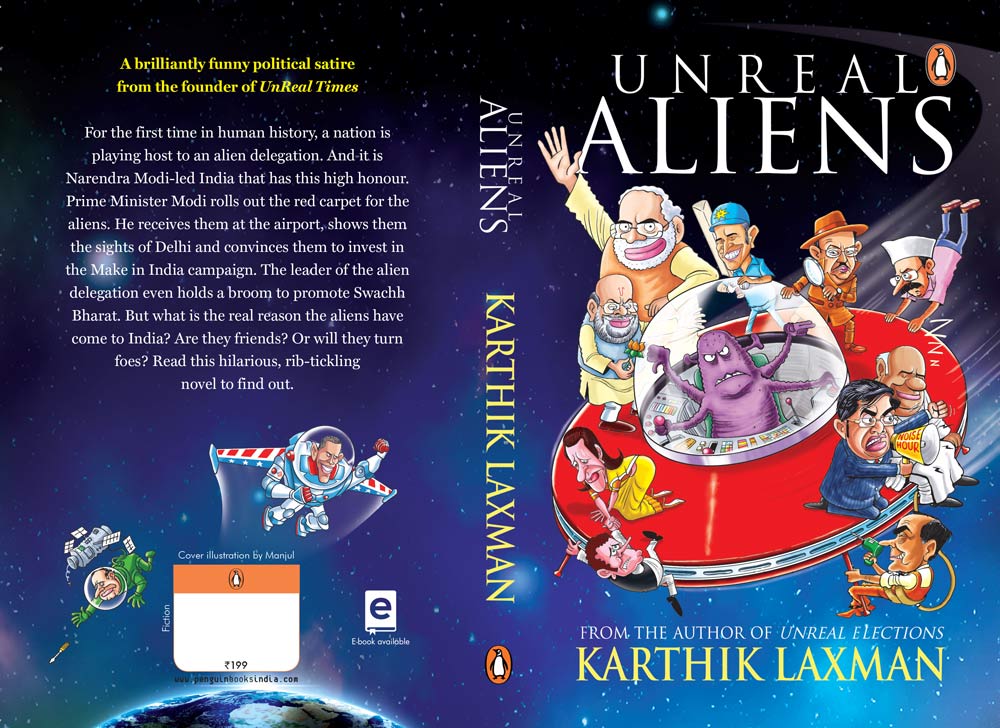 Cover of the book 'Unreal Aliens'
Reading Unreal Elections was a memorable and unique experience – it was the first time I had read a satirical novel of suck kind. After I was done with it, I waited patiently for their next book to arrive. And finally, after three years, we have been served with 'Unreal Aliens'. Authored solely by Karthik Laxman this time, Unreal Aliens gives us a glimpse (need I even say a wacky one?) of what would transpire in the Indian political circles if aliens from outer space were to arrive in the country.
A software engineer from Chennai who dabbles in myriad jobs, Karthik Laxman shares his views on his latest book in this interview. Read on.
Q. So let's begin with the clichéd question first. How did it feel like being back to authoring a book after a gap of more than two years?
Karthik Laxman at the launch of his latest book
Karthik Laxman
: I can't believe you started with a "Kaisa lag raha hai apko" or "How do you feel" question
J
You must be a journalist! Just kidding. It feels great! It feels natural. When we finished the first book "Unreal Elections" (I co-wrote it with CS Krishna) we went through some kind of withdrawal. It felt weird to go through the day not thinking about how I would write the next chapter or scene. We always wanted to write another one, and we had ideas too. However, Krishna wasn't able to contribute to "Unreal Aliens" because of his job commitments. After waiting for him for a while, I decided to write it myself. Hence the gap of 2 years.
Q. What kind of preparation or planning is required for a book of this nature? Can you give us a brief idea?
Karthik Laxman
: I suspect it differs for different people. What I generally like to do is: (a) Identify a core premise, and the broad storyline (b) Strengthen the storyline, add threads, and write down a chapter wise outline (c) Come up with interesting scenes for each chapter (d) Research, write and edit (e) Share the chapter / scene with someone and take feedback (especially in cases when I'm not completely sure if the scene works). It also helps to thrash out ideas with others. For instance, for Unreal Aliens, Ashwin Kumar (URT writer) was greatly helpful in bouncing off ideas and taking feedback. I also discussed ideas with my wife, Anjali. It took me around 6-7 months to write the book. Once I figured out the chapter outline, I set weekly word targets and more or less stuck to it.
Q. Political satire as a genre is still at the nascent stage in Indian fiction. Does writing comedy/satire come naturally to you? Are you jocular in person as well?
Karthik Laxman
: After 5 years of writing for The Unreal Times, satire and humor does come a lot easily to me than other genres. Yes, I suppose there aren't many books on political satire at the moment. So it feels good to contribute to this space with two books, and hopefully more in the future.
You'd have to ask my family and friends if I am a jocular guy or a painful guy! But I like to think that I'm easy going and on occasions can be good company.
Q. The last time I spoke to you, you had mentioned that you would like to explore geopolitics in your next book. Have you managed to do that with 'Unreal Aliens'?
Karthik Laxman
: Yes, my initial storyline for the second book was geopolitical satire – a lot to do with Pakistan in particular. There is indeed a Pakistan thread in Unreal Aliens, but the focus is more on what happens in India. But I hope to do another later on where Pakistan is central to the plot.
Q. The title and summary of your book is quite interesting. Where did this idea – both for the title and the story – come from?
Karthik Laxman
: I had done an article on The UnReal Times a few years back on how Arvind Kejriwal would respond should an Independence Day-style alien invasion happen in Delhi. This was during his 49-day stint as the CM. In the article, we had Kejriwal doing all sort of things that you typically associate with him – doing a dharna demanding that the aliens leave India, calling aliens Modi agents and Ambani agents etc. I enjoyed writing it and the piece got a good response. I then had the idea to expand that to an entire book. I didn't spend much time on the title. "Unreal Aliens" was a working title – I decided to retain it after.
Q. Given the political scenario these days, where loyalists of every political group take offense to any and everything, were you apprehensive about writing a book which openly takes names of political personas and pokes fun at them?
Karthik Laxman
: Not really. Mostly because I have been doing that anyway through The UnReal Times. And also because we already did Unreal Elections which similarly took names of political personas. I must give credit to Penguin here, especially the editor of Unreal Elections, Anish Chandy, who was determined not to change names, despite the advice of Penguin lawyers. Unreal Elections set a precedent, and because of that Unreal Aliens was no problem at all.
Q. How closely did you follow the feedback from your last book by the average readers and how much of an effect did it have when you were writing Unreal Aliens'?
Karthik Laxman
: The first book drew mostly positive feedback from readers. It was rated 4.3/5.0 on Amazon and 4.2/5.0 on Flipkart. There were obviously a few critical comments too, which I took note of. In particular, a handful of readers pointed out that there were a bit too many GRE words in the book. A few others didn't enjoy the sanctimonious ending. So I decided to consciously avoid highfalutin words in this one (Are you smiling at me using the word highfalutin to say what I just said?). I also made this book racier than the first one. It is pretty much a one-sitting read!
Q. What has the initial reactions been for the book so far? Has any political person read your book?
Subramanian Swamy (second from left), Bibek Debroy (third from left)
and Karthik Laxman at the book launch of Unreal Aliens
Karthik Laxman
: Initial reactions have been great! The book has an average rating of 4.7 / 5.0 on Amazon and almost all are glowing reviews. As to your second question, I have been channeling my inner Rajdeep Sardesai :) by going and meeting various personalities and gifting them a copy of the book. So far I have met Dr. Subramanian Swamy, Prof Bibek Debroy, Shri Baijayant Jay Panda. Prof Debroy and Dr. Swamy gracefully agreed to launch the book, and we had a hilarious launch event on the 21st of November. Prof Debroy, in particular, said that he loved my book. He called me up a few hours after I gave him the book and said that he was halfway through the book and that he had never laughed like that in a long while, and that his wife thinks he has gone mad. That made my day. I don't know if Dr. Swamy read the entire book, but he did say at the launch that it is a well-researched book.
Q. How long did it take for you to finish 'Unreal Aliens'? Writing a book like this must not have been easy. Any particular anecdote from the writing days you would like to share?
Karthik Laxman
: Effectively it took me 6 months to write the book. That seems like a long time compared to other writers who usually manage a lot more in lesser time. Sometimes I tend to get obsessive about stuff I've already written, editing and re-editing it again and again. The objective was to ensure that at least 50% of the book should make me smile or chuckle every time I read it. I feel I achieved quite a bit more than that.
The one thing I remember rather vividly from my Unreal Aliens writing journey was the constant badgering encouragement from my agent, Kanishka Gupta. He'd send me Whatsapp and Facebook messages non-stop. This is how I've mentioned him in my acknowledgments:
Kanishka Gupta, my agent and also the best chaser after Virat Kohli. I still get nightmares of receiving text messages from him saying ' Done???', ' Any Updates??' or ' Finish Fast!!'
Q. In the last interview with me, you had mentioned that Manmohan Singh was your favorite political personality on who you enjoy writing the most. Who occupies that position at present?
Karthik Laxman
: Arvind Kejriwal is my current favorite personality. The man gives so much material! And we get such good response to articles on him.
Q. Can you tell us, without giving away any spoilers, which part of the book did you enjoy writing the most and why?
Karthik Laxman
: I liked writing all the entry scenes for various characters. If I had to pick one, it would be Dr. Swamy's entry scene. I read this out in my launch event. I liked writing the Epilogue as well. Just thinking about it makes me chuckle :) In fact, there are so many scenes I love. The cricket match, for instance. That was one of the first things I wrote. I had the idea on a car trip from Dehradun to Delhi. The moment I got home, I pulled out my laptop and started typing it out.
Q. So what next, then? Any plans for the next book? Any hint that may keep us excited and waiting?
Karthik Laxman
: I definitely want to keep writing. I have a life goal of writing at least 20 books. There are a few ideas for the next one. There's one involving time travel. Modi and a bunch of others go back in time to change some unexpected future event. There's another romantic cum political satire idea. There's also an idea to spoof Indian chick flick novels. I haven't zeroed in on any one yet.
Q. Is it a conscious decision to stick to political satire? Yes, I know politics gives you unlimited opportunities to play around with satire. But, what about Bollywood? Isn't that too filled with countless quirky characters you can play with? Any particular personalities you would like to explore there?
Karthik Laxman
: No, I definitely want to branch out. For all the sound and fury on Twitter, there are limited segments of the population who follow politics. And there are even fewer who read books on politics. I started off with political satire because it comes far more easily to me. I'll try something else soon - probably something in the romance genre with a tinge of satire and humor. I wish I could do something in Bollywood, but I hardly follow Bollywood and don't have that good a perspective on it. Nevertheless, thanks for the idea. Let me try and come up with an idea on it! :)
Q. The last one. Imagine you are writing the biographies of the following personalities. What would their titles be?
Arvind Kejriwal
:
Me, myself and Modi
Digvijay Sing
h:
RSS ka haath
Arnab Goswami
:
What the nation wants to know
Subramaniam Swamy
:
How to coin acronyms and send netas to jail
Donald Trump
:
How I grabbed Presidency by the pussy
Barkha Dutt
:
The headmaster's son
Sonia Gandhi
:
Remote control for dummies
Kanhaiya Kumar
:
Memoires of a JNUSUSU president
Aamir Khan
:
From intolerance to tolerance: my Bollywood journey